ESET to Lead Linux Malware Workshop and Showcase Groundbreaking Amazon Echo KRACK Research at RSA 2020
The Latest ESET News

Product and Solution Information, Press Releases, Announcements
ESET to Lead Linux Malware Workshop and Showcase Groundbreaking Amazon Echo KRACK Research at RSA 2020
---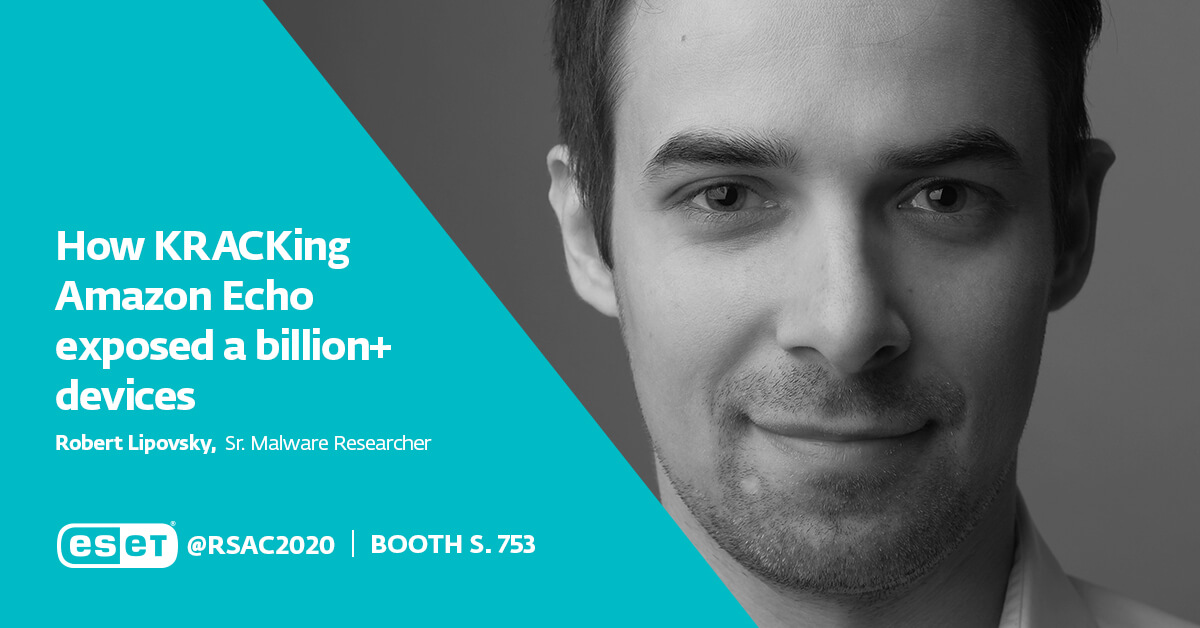 January 24, 2020
ESET, a global leader in IT security, today announced a number of activities at next month's RSA Conference 2020 (February 24-28 in San Francisco).
ESET Malware Researcher Marc-Etienne M.Leveille will lead a main stage workshop titled "Hunting Linux Malware for Fun and Flags." The 50-minute workshop will take place on February 27 at 1:30 PM at Moscone West 3002. Attendees will learn to fight real-world Linux malware targeting server environments, searching for malicious processes and concealed backdoors in a compromised web server. Several examples of malware will be demonstrated with increasing layers of complexity, from scripts to ELF binaries with varying degrees of obfuscation.
ESET Senior Malware Researcher Robert Lipovský and Senior Detection Engineer, Štefan Svorenčík will present a 30-minute session on "Kr00k: How KRACKing Amazon Echo Exposed a Billion+ Vulnerable Wi-Fi Devices" on Wednesday, February 26 at 3:40pm PT at Moscone South.
On the RSA tradeshow floor, ESET will be located at booth #753 in the South Hall. Senior Malware Researcher Robert Lipovský will discuss ESET's latest cutting-edge threat research, including Operation Ghost and KRACKing the Amazon Echo. Malware Removal Support Supervisor James Rodewald will be leading demonstrations of ESET's award-winning enterprise, SMB and consumer products. Malware Researcher Marc-Etienne M.Leveille will also review his conference presentation and answer questions from attendees.
Directly outside the conference, ESET will be running a four-day contest. Attend any of ESET's inspiring presentations or live demos and get a chance to win the newest MacBook Pro 13, an iPhone 11, iPad, or Apple Watch in a prize raffle. Please see here for more details and contest rules.
"RSA is a fantastic opportunity for our customers – both current and prospective – to see our multilayered suite of security solutions in action," said Tony Anscombe, chief security evangelist at ESET. "The cybersecurity landscape has evolved drastically over the past decade, and we expect this to continue in the years to come. ESET is proud to be at the forefront of the field, and we are looking forward to showcasing our groundbreaking research, both on stage and at our trade show booth. We're excited to meet and talk to attendees next month at RSA."
Want to meet on-site with ESET at RSA? Please visit https://www.eset.com/us/rsac/.