ESET File Security for Linux / FreeBSD

Powerful File Server Security for Linux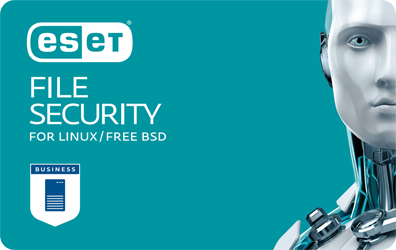 Sorry, this product is no longer available, please contact us for a replacement.
More pricing and licensing options below!
Overview:
Safeguard your Linux, BSD, and Solaris file servers with ESET File Security's real-time protection from known and emerging threats. With ESET, you will never have to choose between security and performance.
Proven security combining speed, accuracy and minimal system impact
Real-Time Protection for Linux and FreeBSD file servers
Low System Demands. Leaves more system resources free while still delivering complete protection
Remote Management. Fully manageable via ESET Remote Administrator 6
Features:
Antivirus and Antispyware
Eliminates all types of threats including viruses, rootkits, worms and spyware
Provides real-time on-access scanning of the server-stored data
Powered by the advanced ThreatSense technology combining speed, accuracy and minimal system impact
Cross-platform Protection
Eliminates malware targeting all platforms, including Windows, Mac and Linux operating systems
Prevents malware from spreading from one platform to another
Low System Demands
Delivers proven protection while leaving more system resources for the server's vital tasks
Remote Administration
Compatible with ESET Remote Administrator and supports management through a web interface
Gives you the option to schedule on-demand scans, actions and security tasks
Allows you to customize log details and modify reports and notifications to help you monitor compliance with company security standards
Distribution-Independent Solution
ESET provides installers for the most popular distributions of Unix-based systems, including the 'Ready' variations of RedHat and SuSE that comply with the File-System-Hierarchy standard
Requires no external libraries except for LIBC
System Requirements:
Operating Systems:
Linux: Kernel version 2.6.x; glibc 2.3.6 or higher; Dazuko kernel module 2.0.0 or higher (optional)
FreeBSD: Version 6.x or 7.x & 8.x
Sun Solaris: Version 10
NetBSD: Version 4
Processor Architecture:
Compatible with ESET Remote Administrator 6
Note: Not compatible with previous versions of ESET Remote Administrator
See more information about ESET Remote Administrator compatibility
Product Comparison:
 
ESET File Security for Microsoft Exchange Server
ESET File Security VM extension for Microsoft Azure
ESET File Security for Linux / FreeBSD
File Security Comparison
Platform
Windows
Windows
Linux
Antivirus and Antispyware
Protects critical company data stored in files against all forms of malware.
Virtualization Support
Boosts scanning speed by eliminating duplicate scanning of files which have already been scanned.
–
Native Clustering Support
Allows you to configure the solution to automatically replicate settings when installed in a cluster environment.
–
Storage Scan (NAS)
Allows you to easily set up on-demand scans of connected Network Attached Storage (NAS) drives.
–
Windows Management Instrumentation (WMI) Provider
Provides the possibility to monitor key functionalities of ESET File Security via Windows Management Instrumentation framework
–
Remote Management
Allows to manage file security and push policies centrally from a single console.
Pricing Notes:
Antivirus for Linux file server. Linux Kernel 2.6x, glibc 2.3.6 or higher, FreeBSD 6.x and newer, NetBSD v4, Sun Solaris v10. Media: License Download.
Pricing and product availability subject to change without notice.