Security Services
Prevent. React. Foresee.
Combining the skills of our world-class IT security research teams, and the cutting-edge technology of ESET IT security products that act preventively, proactively and reactively.
Faster response
When you're under pressure, standard product support sometimes isn't enough. Exchange your place in the 'ticket queue' for a guaranteed response time.
Complexity managed
You know that the solutions you need to protect your entire Enterprise can be very complex. With ESET experts on hand, resolving issues becomes a manageable task.
Resources allocated
If your skilled IT personnel are already committed to core-business tasks, with our MDR solutions you can call on ESET's to help manage your security.
Expertise
The world's best professional support – backed by ESET's teams of renowned researchers, operating across the globe – is available 24/7/365 to address your IT security needs and issues.
Business continuity
ESET products are designed to be intuitive and come with comprehensive documentation. Still, having ESET expertise on hand reduces the risks of any downtime or gaps in vital operations.
Reduced risk
Complex security risks, and the time and resources spent resolving them, can threaten an organization's survival. With guaranteed IT security support from ESET, your operations are protected.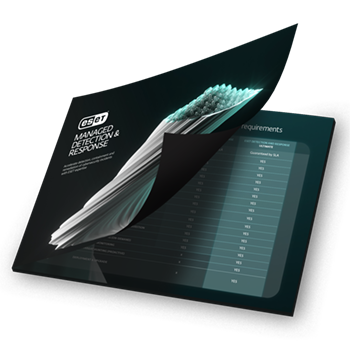 Airtight multilayered security with expert support
ESET's MDR service (Detection and Response Ultimate) represents the most densely multilayered and effective cybersecurity approach in the world. ESET has 30 years of experience and enjoys consistent recognition from leading industry analysts.
The MDR service takes ESET's cutting-edge technology and augments it with hands-on expertise, delivered 24/7/365, ensuring antimalware technology and strategy are perfectly aligned.
With full XDR capabilities thanks to ESET Inspect, the XDR-enabling component, this is the optimal approach to securing your enterprise.
Protected by ESET digital security, your business can fully benefit from the progress that new technologies enable.
Compare ESET's detection and response services
| | | | |
| --- | --- | --- | --- |
| | ESET Detection and Response Essential | ESET Detection and Response Advanced | ESET Detection and Response Ultimate |
| Malware: missing detection | | | |
| Malware: cleaning problem | | | |
| Malware: ransomware infection | | | |
| False positive | | | |
| General: Suspicious behavior investigation | | | |
| Basic file analysis | | | |
| Detail file analysis | | | |
| Digital forensic | | | |
| Digital forensic incident response assistance | | | |
| Support – rules | | | |
| Support – exclusions | | | |
| ESET Inspect related questions | | | |
| Initial Optimization | | | |
| Threat Hunting (on-demand) | | | |
| Threat Monitoring | | | |
| Threat Hunting (proactive) | | | |
| Deployment & Upgrade | | | |