ESET Gateway Security for Kerio

Protection for Kerio Gateway Server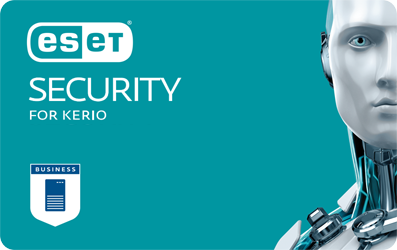 Sorry, this product is no longer available, please contact us for a replacement.
More pricing and licensing options below!
Overview:
ESET NOD32 Antivirus for Kerio Control filters traffic from all inbound connections to protect your network from a host of Internet-borne threats, including worms, viruses, trojans, spyware, and rootkits.
Proactive defense that scans Kerio-processed email and shields the host server
Now with support for Kerio Connect 8.0+
Scans all email and web traffic
Rule-based filtering
Remote management included
Features:
Antivirus and Antispyware
Features antivirus and antispyware plug-ins for Kerio Connect (SMTP and POP3 protocols) and Kerio Control (HTTP and FTP protocols)
A single scanning engine services all scanning requests from Kerio Connect / Control
Provides full-fledged server-as-client protection
Powered by the advanced ThreatSense technology combining speed, accuracy and minimal system impact
Remote Administration
Provides full support for ESET Remote Administrator
Remote installation, automated integration with Kerio Connect / Control
Windows Installations Dual Support
Requires only one instance of ESET security solution if both Kerio Connect and Kerio Control are installed on the server
Smooth Operation
Allows you to customize settings via Kerio administration console
Automatically cleans or deletes any infected objects (attachments)
Downloads updates from the Internet or from the local mirror server
Uses the same update packages as other ESET security solutions
Benefits:
The benefits of ESET Security for Kerio
Dual Support for Kerio Products
If both Kerio Connect (formerly Kerio Mail Server) and Kerio Control are installed, only one instance of ESET Security for Kerio is required.
Safe e-mail & web communications
Content passing through HTTP, FTP and SMTP protocols is thoroughly scanned for threats, malicious code is filtered before it can cause any damage to end users on your network.
Server-as-Client Protection
The solution also contains all tools and features for full-fledged server protection including the resident shield and on-demand scanner.
eShell
Run scripts to set up configuration or perform an action. eShell brings the possibility to automate the security management of ESET Security products.
Rule-based Filtering
Set up rules on file name, file size and real file type. Optimizing scan performance by only checking files that are not blocked.
Protection that is Easy on the Server
Scanning tasks are served by a single Threatsense engine, significantly reducing system load.
System Requirements:
Operating Systems:
Microsoft Windows Server 2012
Microsoft Windows Server 2008 R2
Microsoft Windows Server 2008
Microsoft Windows Server 2003
Microsoft Small Business Server 2011
Microsoft Small Business Server 2008
Microsoft Small Business Server 2003
Microsoft Small Business Server 2003 R2
Supported Versions of Kerio products:
Kerio Connect 7.4.x & newer
Kerio Control 7.4.0, 7.4.1 & 7.4.2
Processor Architecture:
Compatible with ESET Remote Administrator 6 as well as ESET Remote Administrator 5
See more information about ESET Remote Administrator compatibility
Product Comparison:
 
ESET Gateway Security for Linux / FreeBSD
ESET Security for Kerio
Mail Security Comparison
Platform
Linux
Kerio
Antivirus and Antispyware
First line of defense, effectively filters communication for threats at the gateway level.
Host Protection
Efficiently protects the server as a host against malware and breaches.
–
Kerio Plugin
The NOD32 scanning core seamlessly integrates with Kerio infrastructure as a plugin to filter out malware.
–
Remote Management
Allows to manage gateway security and push policies centrally from a single console.
User Interface
The interface provides for a pleasant user experience with clarity in the main areas and a great deal of fine-tuning under the covers.
WEB
GUI
Pricing Notes:
Gateway malware filtering for Windows systems running Kerio Control v6.6 and newer; Windows 2000 and higher.
Supported by ESET Endpoint Antivirus, ESET NOD32 Antivirus 4 Business Edition, ESET File Security for Microsoft Windows Server.
Pricing and product availability subject to change without notice.