ESET Mail Security for Linux / FreeBSD

Discover ESET System Capabilities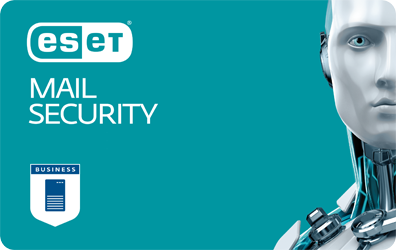 Sorry, this product is no longer available, please contact us for a replacement.
More pricing and licensing options below!
Overview:
ESET Mail Security for Linux/FreeBSD offers lightweight yet powerful protection for heavy-duty mail servers based on the Unix platform. This product features ThreatSense, the industry's most accurate proactive technology for detecting all types of malware.
ESET Mail Security delivers both on-demand and on-access real-time protection from known and unknown viruses, worms, trojans, spyware and other internet threats. Included spam filter offers multiple, simultaneous filtering methods to provide effective detection and excellent protection. It also expands mail security coverage to include support for Novell GroupWise collaboration software, making it even easier for IT administrators to protect all Unix based mail services with one single product.
Safeguard your email with simple set-and-forget protection against malware and spam
Linux and FreeBSD based mail server protection and antispam
Low System Demands. Leaves more system resources free while still delivering complete protection
Remote Management. Fully manageable via ESET Remote Administrator 6
Features:
Antivirus and Antispyware
Scans all inbound and outbound POP3, SMTP and IMAP traffic
ESETS_SMTP module runs independent of the Mail Transport Agent (MTA)
Filters out email-borne threats, including spyware at the gateway level
Powered by the advanced ThreatSense technology combining speed, accuracy and minimal system impact
Antispam
Stops spam and phishing messages with high interception rates
Features improved antispam engine with an option to define threshold levels with great precision
Cross-platform Protection
Eliminates malware targeting all platforms, including Windows, Mac and Linux operating systems
Prevents spreading of malware from one platform to another
Remote Administration
Compatible with ESET Remote Administrator and supports management through a web interface
Gives you the option to schedule on-demand scans, actions and security tasks
Allows you to customize log details and modify reports and notifications to help you monitor compliance with company security standards
Smooth Operation
Features content filters for Postfix, Sendmail, Qmail, Exim, Zmailer, and others
Smoothly integrates in the Novell Groupwise environment
Ready for integration with Zarafa collaborative software
Built-in license manager automatically merges two or more licenses with the same customer name
Distribution Independent Solution
ESET provides installers for the most popular distributions
Gives you the option to use the general installation package for less common systems not supported directly
System Requirements:
Operating Systems:
Linux – Kernel version 2.6.x or higher
glibc 2.3.6 or higher 
FreeBSD – Version 6.x, 7.x, 8.x & 9.x
Processor Architecture:
Compatible with ESET Remote Administrator 6
Note: Not compatible with previous versions of ESET Remote Administrator
See more information about ESET Remote Administrator compatibility
Product Comparison:
 
ESET Mail Security for Microsoft Exchange Server
ESET Mail Security for Linux / FreeBSD
ESET Mail Security for IBM Domino
ESET Security for Kerio
Mail Security Comparison
Platform
Windows
Linux
Windows
Kerio
Antivirus and Antispyware
Filters malware at the mail level with proven antivirus and antispyware technology.
Antispam
Keeps company inboxes spam-free filtering out unsolicited emails, scams, phishing and frauds.
–
Virtualization Support
Designed for virtual environments with a range of features for seamless operation and high performance.
–
–
–
Host Protection
Efficiently protects the server file system as a host against malware and breaches.
–
Kerio Plugin
The NOD32 scanning core seamlessly integrates with Kerio infrastructure as a plugin to filter out malwares.
–
–
Remote Management
Allows to manage mail security and push policies centrally from a single console.
User Interface
The interface provides for a pleasant user experience , with good clarity in the main areas and a great level of fine-tuning under the covers.
GUI
WEB
GUI
GUI
Pricing Notes:
Antivirus for Linux mail server. Linux Kernel 2.6x, glibc 2.3.6 or higher, FreeBSD 6.x and newer, NetBSD v4, Sun Solaris v10. Media: License Download.
Pricing and product availability subject to change without notice.