ESET NOD32 Antivirus Business Edition for Linux

Powerful cross-platform antimalware protection for Linux desktop systems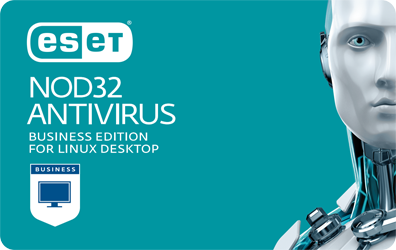 This product is no longer available, please Contact Us for replacement solution.
For more pricing options, click here!
Overview:
ESET NOD32 Antivirus for Linux Desktop offers complete protection against cross-platform and emerging threats. Built on the award-winning ThreatSense scanning engine, the solution delivers real-time protection without system slowdowns, shielding Linux-based systems from all types of malicious code, including those engineered for Windows and Mac OS.
Award-winning ESET NOD32 technology delivers superior detection power for your business. Keep the security of offline devices under control, and customize scanning as you see fit. Control it all effortlessly with our allnew, user-friendly remote administrator tool.
Powerful cross-platform antimalware protection for Linux desktop systems
Comprehensive Endpoint Protection for Linux Desktop
Low System Demands. Leaves more system resources free while still delivering complete protection.
Remote Management Included. Fully manageable via ESET Remote Administrator.
Benefits:
Endpoint Protection
Antivirus and Antispyware
Eliminates all types of threats, including viruses, rootkits, worms and spyware.
Optional cloud-powered scanning: Whitelisting of safe files based on file reputation database in the cloud for better detection and faster scanning.
Only information about executable and archive files is sent to the cloud – such data are not personally attributable.
Removable Media Control
Blocks unauthorized devices (CDs/DVDs and USBs) from your system.
Enables you to create rules for user groups to comply with your company policies.
Cross-Platform Protection
Detects and eliminates malware targeting Windows, Mac and Linux operating systems
Usability
ESET License Administrator
Makes it possible to handle all licenses transparently, from one place via web browser. You can merge, delegate and manage all licenses centrally in real-time, even if you are not using ESET Remote Administrator.
Low System Demands
Delivers proven protection while leaving more system resources for programs that end users regularly run. Can be deployed on older machines without the need for an upgrade, thereby extending hardware lifetime
Remote Management
ESET Endpoint solutions are fully manageable via ESET Remote Administrator.
Deploy, run tasks, set up policies, collect logs, and get notifications and an overall security overview of your network – all via a single web-based management console.
System Requirements:
Operating Systems:
RedHat, Debian, Ubuntu, Suse, Fedora and Mandriva and majority of other RPM and DEB package manager based distributions.
kernel 2.6 or newer
GNU C Library 2.3 or newer
GTK+ 2.6 or newer
LSB 3.1 compatibility recommended
Compatible with ESET Remote Administrator 6 as well as ESET Remote Administrator 5
See more information about ESET Remote Administrator compatibility
Product Comparison:
 
ESET Endpoint Antivirus for macOS
ESET Endpoint Security for macOS
ESET NOD32 Antivirus Business Edition for Linux Desktop
Endpoint Security for macOS and Linux Comparison
Platform
Mac
Mac
Linux
Antivirus and Antispyware
Provides proactive protection against all types of online and offline threats and prevents malware spreading to other users.
Cross-Platform Protection
Protection against malware targeting Windows, macOS and Linux, and covers all potential vectors of attacks.
Virtualization Support
Designed for virtual environments with a range of features for seamless operation and high performance.
–
Anti-Phishing
Protects end users from fake websites trying to acquire sensitive information, such as usernames, passwords, banking or credit card details.
–
Web Control
Limits website access by category, e.g. gaming, social networking, shopping, and others.
–
–
Two-Way Firewall
Prevents unauthorized access to company network and provides effective anti-hacker protection and data exposure prevention.
–
–
Component-Based Installation
Allows you to choose which components of the solution to install.
–
–
Remote Management
Fully manageable via ESET Remote Administrator.