ESET Secure Authentication

Strong Two-Factor Authentication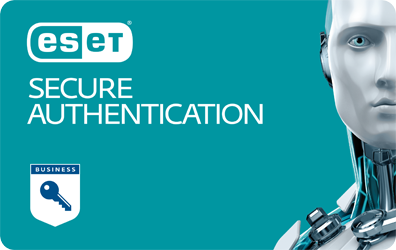 ESET Products
ESET Secure Authentication - 1 Year - New
ESET Secure Authentication - New - 1-10 Users - 1 Year
#ESA-N-1Y-NO-Q1-10
List Price:
$69.90
Our Price: $66.41
ESET Secure Authentication - New - 11-25 Users - 1 Year
#ESA-N-1Y-NO-Q11-25
List Price:
$59.90
Our Price: $56.91
ESET Secure Authentication - New - 26-49 Users - 1 Year
#ESA-N-1Y-NO-Q26-49
List Price:
$40.90
Our Price: $38.86
More pricing and licensing options below!
Overview:
ESET Secure Authentication provides powerful software-based two-factor authentication (2FA), safeguarding your company's mobile workforce against data breaches due to compromised passwords and aiding in regulatory compliance with HIPAA, PCI DSS and NIST. ESET Secure Authentication validates each VPN and Outlook Web Access (OWA) login with a unique one-time-password (OTP) adding an important layer of security to your company's sensitive data. Simple to manage, ESET Secure Authentication is more flexible, cost effective, and easy to use than hardware OTP tokens or appliances.
ESET Secure Authentication helps businesses access their data securely. Our solution utilizes the existing Active Directory domain, allowing you to set up ESET's two-factor authentication in just 10 minutes – and thus easily reduce the risk of data breaches, caused by stolen, weak or compromised passwords.
The solution consists of the server side and the client side – the latter comes in the form of a mobile app. The authentication options include Push Authentication, as well as generation and delivery one-time passwords (OTPs) via the mobile app, but also via SMS messages or your organization's existing hardware tokens.
Single-tap authentication for extra data protection
Two-factor authentication. Prevents security breaches by validating users' identities
Easy management, fast roll-out. Integrates with Active Directory and ready to use within 10 minutes
Designed for a mobile world. No extra hardware required - keeps costs low and users happy
Compliance with confidence. Helps organizations comply with regulations such as GDPR or PCI-DSS/HIPAA
Created with business productivity in mind. Our flexible integration options offer 2FA whenever identities or transactions need protecting

ESET Secure Authentication helps you secure your data in a hassle-free way. By complementing your normal authentication with a second factor, it effectively reduces the risk of data breaches caused by weak or leaked passwords.
Use ESET Secure Authentication to protect:
Access to your company's VPN
Remote Desktop Protocol
Additional authentication for desktop login (signing into an operating system)
Web/cloud services via Microsoft ADFS 3.0, such as Office 365
Microsoft Web Apps, such as OWA
Exchange Control Panel & Exchange Administrator Center
VMware Horizon View
RADIUS-based services
Easy integration with your RADIUS-based services or via an API to your existing Active Directory-based authentication. Non Active Directory customers with custom systems can use the easy-to-deploy SDK.
Features:
Two-factor Authentication
Mobile-based, two-factor (2FA) authentication for a higher level of security
Native support for a broad range of platforms (see supported platforms overview, below)
Software-based solution—no need to carry an additional device or token
Convenient for your mobile workforce
Support for hardware tokens
Compatible with any mobile phone that supports SMS messaging
Client Side (mobile app)
One-tap installation, simple and effective user interface
Supports a broad range of mobile operating systems
PIN-protected access to prevent fraud in case of device theft or loss
Apps available in 16 languages, including English, German, Russian, French and Spanish
Authentication Methods
Mobile client app—generates one-time passwords (OTPs); no internet connection required
Push Authentication—single-touch authentication via mobile phone (requires mobile client app; works with Android and iOS devices)
SMS delivery of one-time passwords
Hardware tokens (while the solution does not require hardware tokens to work, it supports all event-based HOTP tokens that are OATH-compliant)
Custom methods (e.g. via email)
Server Side
Out-of-the-box solution
Easy double-click installation and setup
The installer automatically recognizes the OS and selects all suitable components Interactive installer, drop-in installation into ADFS
Custom Integration Options
In Active Directory environment, use either ESET Secure Authentication API or User Management API for easy integration into proprietary systems
SDK allows for implementation for non-Active Directory users
Remote Management
Via Microsoft Management Console (MMC)
Active Directory integration for easy user management
ESET Secure Authentication extends Active Directory Users & Computers (ADUC plugin) with additional features to enable management of users' two-factor authentication settings
Benefits:
Business Benefits
Helps prevent breaches by employing unique passwords for each access
Protects against poor password practices
Improved productivity and user experience— thanks to one-tap push authentication
Saves costs—no additional hardware needed
Easy to migrate to and use
Supports existing hardware tokens to meet compliance requirements
Also adds 2FA to your cloud applications, such as Office 365 or Google Apps
IT Benefits
API/SDK for easy integration into proprietary software and business tools
App works without internet connection (once downloaded)
Supports most types of mobile operating systems
Global technical support in local languages
Out-of-the-box solution
Increases productivity and reduces unnecessary friction when accessing trusted sites, thanks to IP whitelisting
Tools for deployment and configuration in large user environments
System Requirements:
Server side:
32&64-bit versions of Microsoft Windows Server 2003, 2003 R2, 2008, 2008 R2, 2012, 2012 R2, 2016
Client side:
iOS (iPhone), Android, Windows Phone, Windows Mobile,  BlackBerry, all J2ME-enabled phones
Hardware token support:
While the solution doesn't require HW tokens to work, it supports all event-based HOTP tokens that are OATH-compliant
Achieving Compliance and empowering business
Compliance requirements and market pressures demand innovative solutions that deliver security confidence, convenience, cost effectiveness.
ESET Secure Authentication helps companies address their regulatory and compliance requirements while keeping productivity high.
Supported Platforms:
Supported Platforms
Remote login platforms
Remote Desktop Protocol VPN Protection: Barracuda, Cisco ASA, Citrix Access Gateway, Citrix NetScaler, Check Point Software, Cyberoam, F5 FirePass, Fortinet FortiGate, Juniper, Palo Alto, SonicWall
Local login protection (Windows)

Windows 7, 8, 8.1, 10
Windows Server 2008 R2 and later

Active directory federation services

Microsoft ADFS 3.0 (Windows Server 2012 R2)
Citrix XenApp

Supported VDI platforms
VMware Horizon View
Microsoft web applications

Microsoft Exchange 2007
Microsoft Exchange 2010

Outlook Web App
Exchange Control Panel

Microsoft Exchange 2013, 2016

Outlook Web App
Exchange Admin Center

Microsoft Dynamics CRM 2011, 2013, 2015, 2016
Microsoft SharePoint 2010, 2013, 2016
Microsoft SharePoint Foundation 2010, 2013
Microsoft Remote Desktop Web Access
Microsoft Terminal Services Web Access
Microsoft Remote Web Access

Custom integration
ESET Secure Authentication easily integrates with your RADIUS-based services, as well as via the ESET Secure Authentication API or the User Management API to your existing Active Directory-based authentication. Non Active Directory customers with custom systems can use the easy-to-deploy SDK.
Operating systems (server side)

Windows Server 2003 (32&64bit), 2003 R2 (32&64bit), 2008 (32&64bit), 2008 R2, 2012, 2012 R2, 2016
Windows Small Business Server 2008, 2011
Windows Server 2012 Essentials, 2012 R2 Essentials, 2016 Essentials
Management tools are also supported on client operating systems from Windows XP SP3 onwards, in both 32-bit and 64-bit versions

Supported mobile phone platforms (Client-side app)

iOS
Android
Windows Phone
Windows Mobile
BlackBerry
Symbian—all supporting J2ME
All J2ME enabled phones
Video:
ESET Secure Authentication – Push Authentication
ESET Secure Authentication: Protect access to your company network effectively, with no hassle